What Is Hybrid Order Fulfillment and How Does It Work?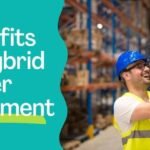 Let's face it: when it comes to fulfillment, there is no one-size-fits-all approach.
Order fulfillment needs purposeful supply chain planning and execution to meet ever-changing market demands, regardless of whether a company sells through several channels, offers a subscription box service, or distributes it to customers worldwide.
One of the significant trends we see in fulfillment is the idea of being a "hybrid" to meet customer expectations, stay competitive, minimize costs, and decrease risk to develop an agile supply chain.
Let's look at what hybrid fulfillment is, how it might help organizations, and whether it's a viable alternative for you. 
What Is Hybrid Order Fulfillment
Hybrid fulfillment is a versatile and diversified method to order fulfillment that combines a variety of fulfillment strategies, such as in-house fulfillment, drop shipping, and third-party logistics.
This type of fulfillment approach gives eCommerce businesses, both direct-to-consumer and B2B, more control over their supply chain management.
What are the Different Types of Fulfillment Models?
Ecommerce organizations now have more alternatives than ever before for managing fulfillment. Here's a rundown of the three most prevalent sorts of satisfaction.
In-House Fulfillment
It is known as in-house fulfillment when a company conducts all aspects of fulfillment in-house, from warehousing and inventory management to selecting, packaging, and shipping.
Businesses that choose to fulfill orders in-house hire employees and invest in the necessary equipment and space (whether it's in their own homes or a warehouse).
In-house fulfillment is a terrific choice for companies that want complete control over their logistical operations and have the resources to manage them without sacrificing customer service.
Dropshipping
Dropshipping is when a company's supplier or manufacturer sends orders to the end customer directly.
This fulfillment approach allows merchants to concentrate their time and efforts on other aspects of their business rather than worrying about inventory management or shipping orders.
Though competitive and lacking in quality control and monitoring, it's a somewhat hands-off method that works well for businesses that are just getting started or can't handle inventory themselves.
3PL Fulfillment 
Third-party fulfillment entails outsourcing fulfillment to a third-party logistics company (3PL).
Every facet of the retail fulfillment process is handled by a 3PL partner, including warehouse receiving, inventory management, storage, picking and packing, and shipping.
Fast-growing firms in direct-to-consumer and B2B spaces can entirely delegate the fulfillment process to professionals by outsourcing fulfillment to a third party.
Hybrid Order Fulfillment
Instead of depending entirely on one of the above fulfillment methods, hybrid order fulfillment employs a combination.
This method gives eCommerce enterprises more flexibility and allows for a more resilient supply chain to satisfy ever-changing market demands while also allowing for development.
Hybrid fulfillment is an excellent option for businesses that are rapidly expanding, offering a diverse range of products, serve a diverse range of markets with varying expectations, and require a customized fulfillment solution to meet the needs of the company and its customers (e.g., outsourcing fulfillment of fast-moving products and rarely fulfilling orders SKUs themselves, only fulfilling regional orders themselves, etc.). 
Is a mixed fulfillment strategy appropriate for me?
For internet firms, hybrid fulfillment is always a possibility. However, because you must manage or at the very least oversee various fulfillment processes, there are many moving parts.
Managing your inventory across several locations and ensuring that orders are delivered on time can be difficult and time-consuming.
On the other hand, supply chain technology makes it easier to manage everything by centralizing critical, real-time data.
A hybrid fulfillment approach can give your company the flexibility it needs to develop if you have the correct strategy, resources, and technology.
If you have a warehouse lease but want better coverage on the other side of the country, this is the alternative for you (or in other countries).
You want to take care of a few products.

You always experiment with new products, concepts, processes, and distribution channels.

You're trying out online sales for your physical store, and you'd like to offer both pickup and delivery alternatives.

You have the resources to manage the many fulfillment options your strategy requires effectively.

You don't have the resources to keep and handle significant amounts of e-commerce goods, or you don't want to.

You'll need various fulfillment solutions to meet product customization needs and consumer expectations.
Benefits of Hybrid Order Fulfillment

Flexibility
With hybrid order fulfillment, you have a lot of flexibility at your disposal. For each SKU, you can determine which order fulfillment strategy is best and process the order in that way. It can assist you in streamlining the order fulfillment process and providing speedier client service.
Faster Growth
Your business will be able to quickly complete a large number of orders using a variety of fulfillment techniques if you use a hybrid order fulfillment approach. When your consumers are spread out geographically, a 3PL fulfillment approach might be more appropriate than a drop shipping plan for a few SKUs.
Scope for Experimentation
A hybrid fulfillment model can assist you in seeing the effectiveness of several methods of fulfillment in order to make your choice if you were establishing a new line of items and wanted to play with them. The product is frequently good, but the fulfillment typically failed. With hybrid fulfillment, you may take these things into account and then select the option that best fits your supply chain for eCommerce fulfillment.
Cost-Effective
Most of the time, and assist you optimise expenses as you can utilize a variety of fulfillment techniques to lower the cost of shipping and delivery. For instance, shipping from a single location in the USA and delivering goods with in-house fulfillment can raise your transportation costs. But if you combine this in-house fulfillment with 3PL fulfillment, you may keep merchandise at several locations around the Country and cut transportation costs by shortening the shipment distance.
Final Thoughts
You may save on expenses, make better use of available space, and fulfill orders on time with the aid of a hybrid fulfillment model. Before making a final decision, it is important to consider the advantages of hybrid order fulfillment against your specific business needs.