Ecommerce Shipping Solutions – Comprehensive Guide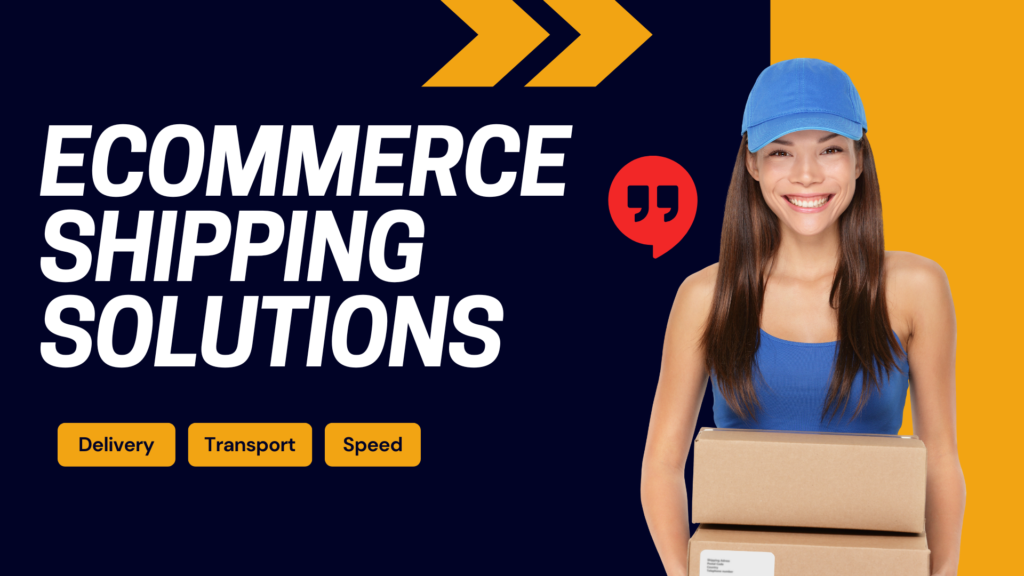 Many small online enterprises may try to start with a straightforward delivery strategy. They may even think their e-commerce platform is equipped with all the tools necessary to handle the entire logistics process. The good news is that starting slowly is okay since you must walk before sprinting. But when you are there, spend some time studying some logistics details.
The most prosperous business owners separate their brands from the competition and boost their profit margins by utilizing intelligent shipping solutions.
It involves more than just the alternatives you'll provide when establishing your shipping strategy. Additionally, you must ensure that each pipeline participant knows how they fit into the overall process.
We'll begin by defining eCommerce shipping and describing its operation. The top eCommerce shipping techniques and options will be covered in more detail to improve your operations. Therefore, get your corrugated boxes and packaging tape ready because, by the conclusion of this instruction, you'll be a shipping pro.
Here's a quick breakdown of what we will cover in the post: 
What is eCommerce shipping? 
What Steps Make Up the Shipping Process for Online Shopping?
eCommerce shipping solutions
Cost estimation for eCommerce shipping
Guidelines for enhancing eCommerce shipping procedures
Ecommerce Shipping FAQ 
What is eCommerce shipping?
Delivering items to a consumer who has ordered them online is known as e-commerce shipping. From the customer's perspective, placing an order typically only requires a few clicks, and delivery will be delivered within a few days. However, company logistics are a little more intricate than that.
A fulfillment center packages the items once an order is placed and then transfers them to a carrier for delivery. Transporting products from one location to another is what shipping carriers do. Although there are other shipping companies, most people are familiar with the major players like UPS, FedEx, DHL, and USPS. Selecting the best carrier for your company is critical because each has unique strengths and drawbacks.
E-commerce companies' clients and their operations are connected via shipping. You couldn't sell to consumers or deliver things without e-commerce shipping. But it may also have a significant effect on how satisfied customers are. For instance, if it takes too long for your items to arrive, your clients will be dissatisfied.
Customs Declaration and Forms
Shipping internationally requires proper customs documentation to ensure smooth delivery. Your local post office or retail shipping location can provide you with the Customs Declaration and Forms, which provide customs officers at the destination country with information about what is in the package, its value, and whether it is a gift or merchandise. It's crucial to fill out all forms to prevent customs delays accurately.
It is also essential to inform customers of any tariffs, taxes, and duties due upon delivery. Include this information on your shipping policy page so customers know what additional fees may apply. Doing so will help ensure a smooth and hassle-free shipping experience.
What Steps Make Up the Shipping Process for Online Shopping?
Although it may seem like a lot of labor, shipping logistics can run like a well-oiled machine if you get the hang of it. Additionally, technology and eCommerce shipping services may make the procedure much simpler. The process of eCommerce shipping is broken down in the following part, along with some advice that will be useful to you.
When an order is placed, the delivery procedure for online purchases begins. Although it may also be done over the phone or in person, this is typically done via a website or mobile device. Customers must enter their name, address, contact information, and shipping information during the checkout process.
You will need to choose the items from your warehouse shelves and pack them into boxes or mailers in order to fulfill an order. Include any pertinent documentation, such as invoices or packing slips. When the goods are prepared for shipping and packed, you must label them with the appropriate shipping information.
An order is prepared for shipping once it has been processed and labeled. You must first pick a shipping company and mail the goods. Some e-commerce companies will handle all of their shipments through a single carrier, but many have discovered that working with many airlines is more cost-effective. They may then contrast carrier costs and dependability to be sure they're receiving the best deal. 
Ecommerce Shipping Solutions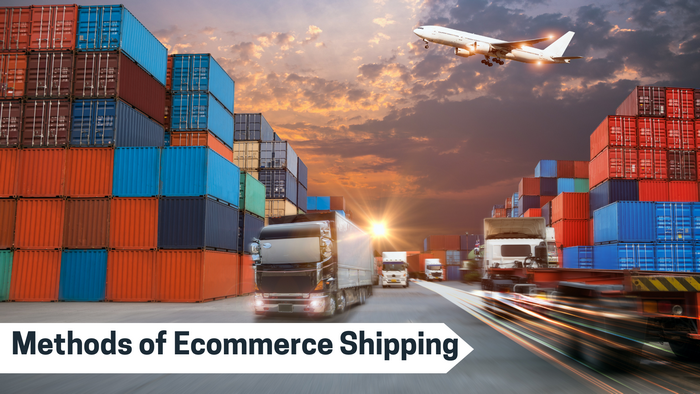 Let's look at some of the many shipping tactics companies might employ now that we've covered the fundamentals of e-commerce shipping. Each shipping technique has advantages and disadvantages, so it's crucial to pick the one that works best for your business.
The items, spending limit, and client base that apply to your company will determine the optimal eCommerce shipping plan.
Standard delivery versus two-day shipping: An effective shipping method for online stores is two-day shipping. Customers adore it since it is quick and dependable. It might be more expensive than an ordinary shipment to achieve short turnaround times consistently and would need additional logistics resources. Although standard shipping is a slower and less dependable option for e-commerce, it is less expensive than two-day shipping. Businesses that are just getting started or that offer items that aren't time-sensitive might choose standard delivery.
Paid shipping versus free shipping: Free delivery may be even more alluring to online customers than paid shipping since consumers prefer to feel like they're receiving a good bargain. Even though it may be costly for businesses to choose to lose money on shipping, it may increase sales by luring in more clients. As an alternative, companies might continue to include free delivery costs in the price of their products. As the term implies, customers pay shipping charges to send their products. Customers are less likely to choose this choice since they are accustomed to the ease of free delivery from some merchants. For businesses, it is less costly.
Shipping options include a flat fee and a table rate: One of the most crucial considerations when selecting an e-commerce shipping plan is shipping prices. Table rating is a shipping choice that costs different prices based on the cargo's weight, dimensions, and destination. In contrast, flat rate shipping costs have a set price independent of such considerations. Table grading is the more effective of these tactics in the eyes of many organizations because of its adaptability.
Shipping methods: single-carrier versus multiple-carrier: Using a single carrier for all of your e-commerce shipments is known as single-carrier shipping. This may be a smart alternative if you want to streamline your shipping procedure or if you have a preferred carrier. However, it ties you to that carrier, including their prices, goods in transit, and customer support.
When shipping items from an online store, you employ several carriers. Shippers may choose the best option for their consumers by comparing costs and travel times.
Comparison of internal vs. 3PL fulfillment: Third-party logistics providers (3PLs) and in-house fulfillment are the two major fulfillment solutions that e-commerce firms select—businesses known as 3PLs store and dispatch online purchases on behalf of other enterprises. When a company fulfills orders internally, it stores and transports them from its facilities. Both techniques have advantages and disadvantages. 3PLs are often more costly and less trustworthy. The cost of in-house logistics is often lower, but the company must handle the challenges of shipping logistics.
Calculating eCommerce Shipping Costs
After covering the fundamentals of e-commerce shipping, let's discuss how shipping rates are determined. Package weight, shipment distance, and transit times are a few of the variables that are frequently used to calculate shipping prices. On the consumer side, though, many people want the lowest price. The difficulty in figuring out e-commerce shipping prices is finding the most incredible deals without compromising earnings.
How is shipping in online shopping determined?

When determining shipping charges, shipping companies consider the following factors:

The weight and size of the package

destination

Travel time Package cost
The carrier will calculate the cost of shipping cargo from point A to point B using these variables. With so many pages available, businesses must pick the ones that provide the most affordable prices without compromising transit times or customer service.
How much should I charge for delivery in an online shop?
This is a typical query with no clear solution. It relies on your delivery plan, goods, transportation costs, and profit margins. You'll need to conduct some math to determine what shipping rates you can pay without affecting revenues. Although it can seem complicated, a shipping program can assist you by automating calculations and providing you with real-time shipping costs from several carriers.
How can I lower my delivery expenses for online orders?
Both small and large e-commerce enterprises may take the following steps to save on delivery costs:
Discuss shipping costs with the carriers.

smaller and lighter packages.

affordable shipping supplies.

Ships using several carriers

Obtain package insurance from a third party.
By doing some research, you will find out which shipping plan will be most effective for your company. The cost of shipping may be significantly decreased with a bit of forwarding forethought.
Guidelines for Enhancing Ecommerce Shipping Procedures
Although shipping can be a difficult and expensive operation, there are actions you can do to improve efficiency and save costs over time. You can adopt these strategies to enhance your e-commerce shipping procedures or collaborate with a business like Payless Prep Center.
Compare shipping costs: Finding the most affordable shipping options is a wise move to improve e-commerce shipping operations. The best price for your package may be found using shipping software, which compares prices from several carriers.
Cross-check shipping addresses: Address verification is one of the most crucial—and frequently skipped—steps in the shipping process. Before a package leaves your facility, this helps guarantee that it is delivered to the proper place. Additionally, it avoids expensive errors when a shipment is given to the incorrect location.
Analyze data often: Finally, remember to examine your shipment statistics routinely. This enables companies to make improvements that will optimize their logistics operations and helps them find areas where their shipping procedures may be enhanced.
Same-day shipping: Same-day delivery is precisely what it sounds like, but achieving it is far more complex than defining it. It takes a very efficient logistics operation and enough resources to successfully serve your consumers with same-day delivery.
Benefits; You can stand out from the competition with the quickest delivery time and boost conversion rates. Increased sales may result from those better conversion rates and the positive reputation your same-day solutions will help you establish.
FAQs 
How do I know if I'm ready to ship cross-border? 
It's crucial to comprehend your shipping alternatives and fulfillment services and choose which ones offer the lowest cost and the most risk mitigation given the rules, regulations, and dangers related, which are frequently different for each region.
Before starting an international shipping business, consider the following:
Are your goods appropriate for international shipping?

Is there a market for your interests in the area you've chosen?

Which delivery options are available?

Are you familiar with taxes, levies, and tariffs?

Have you looked into potential limits in your target area?
Why are stakeholders from cross-functional teams so crucial to the process?
You need leaders from across your company to support you in adopting a new shipping strategy—or any new strategy—and to be prepared to contribute to making the vision a reality. Customer-facing shipping and fulfillment go beyond back-office functions. Additionally, you'll need everyone in your fulfillment team to be on the same page, as well as marketing and customer support.
What are some ways I can distinguish my brand through my shipping strategy?
Have excellent communication about the location and arrival time of clients' items. Make such communication a priority and don't wait for them to call you.
Use packaging to support your business, whether it be your logo on the box, branded tissue paper inside, or environmentally friendly packaging that supports groups with a commitment to sustainability.