How Micro Fulfillment Centers Are Revolutionizing Order Fulfillment
As an eCommerce firm expands, it will go through some adjustments. Brands may anticipate celebrating victories, enduring hurdles, and going through a variety of growing pains. The following can be characterized as learning how to manage growing demand.
Rising demand will necessitate more fulfillment capacity, which will provide its own set of issues. Throughout its existence, an eCommerce firm must consider how to adapt and prosper, occasionally having to reassess things such as warehouses and fulfillment centers.
During this time, you may want to consider whether transitioning to micro fulfillment centers will be helpful to your company.
This essay will help you investigate those potential benefits and determine whether or not you should adopt micro warehousing.
What Is a Micro Fulfillment Center?
A micro fulfillment center (MFC) is a small-scale storage facility that eCommerce businesses utilize to store merchandise closer to the end consumer to cut costs and travel times. These fulfillment centers are frequently highly automated, which aids in operational efficiency.
Traditional Warehouses Vs. Micro Fulfillment Centers
The choice between traditional warehouses and micro fulfillment centers is more than a size comparison. While traditional warehouses tend to be large and capable of storing large amounts of inventory, They offer advantages that can benefit enterprises.
Traditional warehouses provide cost-effective solutions for storing and shipping products on a large scale. Due to their size and specialized structure, they can often discount shipping costs and faster delivery times. In addition, traditional warehouses tend to offer a greater variety of product offerings due to their more extensive storage capabilities.
On the other hand, micro-fulfillment centers are much smaller and more specialized. These centers are designed to provide fast and efficient, with the ability to store and ship small orders. As a result, they are better suited to businesses that require shorter lead times and have more minor inventory requirements. Furthermore, micro fulfillment centers are often more cost-effective due to their smaller size and specialized nature.
Aside from their function, micro fulfillment centers and typical, large-scale warehouses are vastly different in size. As a result, each has its own set of advantages for enterprises.
Micro-Fulfillment Facilities
Micro fulfillment centers are less than 10,000 square feet and operate on a smaller scale. They are usually housed in an existing store or warehouse to avoid disrupting routine operations. Because of their smaller capacity, they can only hold roughly 24-48 hours' worth of inventory and must be restocked frequently. These fulfillment facilities are not designed for long-term storage but to have things available to select, pack, and ship as soon as orders arrive.
A Large Number of Fulfillment Centers
Larger fulfillment centers are typically in the 300,000-square-foot range, although they can be much larger depending on the organization's size.
Larger fulfillment centers have the space to keep enormous volumes of merchandise, which might survive for several months and may not need to be refilled as frequently.
Disadvantages of Micro Warehousing and Micro Fulfillment Centers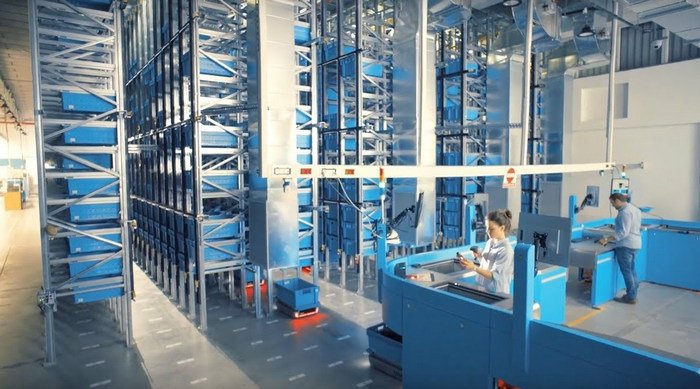 Micro warehousing can reduce fulfillment costs while increasing delivery times. This alternative should be seriously considered by many firms aiming to optimize their operating procedures. However, it's also crucial to understand some obstacles you'll face if you use tiny fulfillment centers.
Constant inventory replenishment is required.
Depends on erratic consumer demand.
Stockouts are more likely.
It is dependent on the location of the customer.
Not applicable to all SKU kinds.
Is Micro-Warehousing the Way of the Future of E-commerce?
As a result of the fulfillment experience provided by giant retailers such as Amazon, consumers have grown to anticipate rapid and free shipping, putting pressure on smaller firms to satisfy these expectations as well.
That is why outsourced fulfillment and micro storage have grown in popularity in recent years—these solutions aid in meeting the fulfillment requirements of rising eCommerce firms.
Micro warehousing brings goods closer to end-users, reducing travel times and allowing firms to offer speedier delivery. The most significant limitation is storage capacity, as micro fulfillment centers can only hold inventory for roughly two days. Micro fulfillment centers may be unable to meet the high-volume fulfillment requirements of expanding eCommerce enterprises.
Micro fulfillment centers, on the other hand, may be great for streamlining the fulfillment processes of smaller organizations, particularly those with fewer resources and more minor fulfilling needs.
Outsourcing fulfillment to a 3PL is an innovative way for larger businesses and scaling eCommerce operations to maximize the delivery experience without the significant investments required with larger fulfillment centers and the capacity constraints of micro fulfillment centers.
Businesses can outsource order fulfillment procedures like picking, packaging, and delivery to experts and scale their delivery experiences to rival retail giants such as Amazon.
The Advantages of Micro Warehousing and Micro Fulfillment Centers:
While micro warehousing has drawbacks, depending on the brand's goals, the benefits may exceed the drawbacks.
Quick Order Fulfillment
As previously said, the majority of micro-fulfillment facilities are highly automated. Picking lists, for example, are automatically prepared to improve the process, and machines, where applicable, frequently carry out the procedure. This dramatically accelerates order fulfillment, ensuring that orders are shipped out the door as soon as they are received.
Increased Delivery Speed
Because micro fulfillment centers are placed close to end-users, orders are delivered swiftly because they have to travel for lesser distances. Furthermore, because products must transit through fewer shipping zones, shipping costs are cheaper, allowing businesses to provide their clients with speedy and affordable delivery experiences.
Improved Customer Service
Businesses may improve the client experience by deploying mini fulfillment centers, which allow for speedier deliveries. Furthermore, having fulfillment centers closer to clients allows for faster completion of returns, refunds, and exchanges, which boosts customer satisfaction.
Cost-Effective Growth
Large fulfillment centers are costly to build and manage (see Amazon and Nike's massive distribution hubs). Smaller firms do not have the budget or resources to support such a large-scale storage facility. Businesses that use micro warehousing can provide speedier fulfillment experiences while investing less. While there may be certain capacity constraints, leveraging micro-fulfillment centers allows enterprises to scale their operations more efficiently.
Enhanced Sales
Providing rapid and economical delivery through a mini fulfillment center removes two of the most typical hurdles to consumers purchasing products: poor shipping speeds and high shipping charges.
More sales are generated as more consumers convert.
Alternatives for Micro Fulfillment
Micro fulfillment centers enable faster fulfillment without requiring significant financial commitments. This could be ideal for small-scale enterprises that aren't wanting to expand their operations drastically.
Smaller capacities, on the other hand, may not be practical for scaling eCommerce enterprises experiencing increased fulfillment demands. And, because massive fulfillment centers like Amazon's aren't a financially viable solution, there's a need to investigate other options.
Let's take a look at some of the most significant micro-warehousing alternatives:
Logistics Centers
Businesses may collaborate with logistics centers, essentially warehouses that also offer extra logistics services in addition to storage space.
Some logistics centers even have many sites in their network, allowing you to disperse your merchandise over multiple regions.
These are excellent alternatives to tiny fulfillment centers because they can accept more inventory to meet your rising fulfillment requests.
Distribution centers
E-commerce companies can also store and ship products from distribution facilities. These are specialist warehouses that serve as central locations for strategically storing finished goods while providing value-added services such as order fulfillment. They're a little more comprehensive than logistics centers, going beyond storage and assisting e-commerce enterprises with supply chain optimization. 
How does Payless Prep Center Handle Various Fulfillment Issues?
Organize Your Inventory Effectively.
Most eCommerce firms struggle with inventory management, especially if they have a significant number of SKUs. It might be challenging to track your inventory, how much you need, and when you need to order more. As a result, your inventory storage requirements extend beyond merely holding your products.
Distribute Your Inventory Wisely.
One of the primary advantages of micro warehousing is the ability to store your product closer to your end customers, which improves shipping speeds and lowers costs. This enables you to strategically keep your inventory across different locations and send orders from the closest fulfillment center to the final-mile delivery destination.
2 Day Shipping
While two-day shipping was once considered a luxury, it is now the norm in the eCommerce business, thanks to retail giants like Amazon and Walmart redefining consumer expectations.
Furthermore, our current ties with prominent shipping carriers may provide you with cheaper shipping rates, allowing your clients to still experience rapid shipment at a low cost. Enhance your returns management procedure.
The returns procedure plays a crucial part in the entire customer experience. Thus it must be optimized.