What is the Difference Between Fulfillment Center and Warehouse?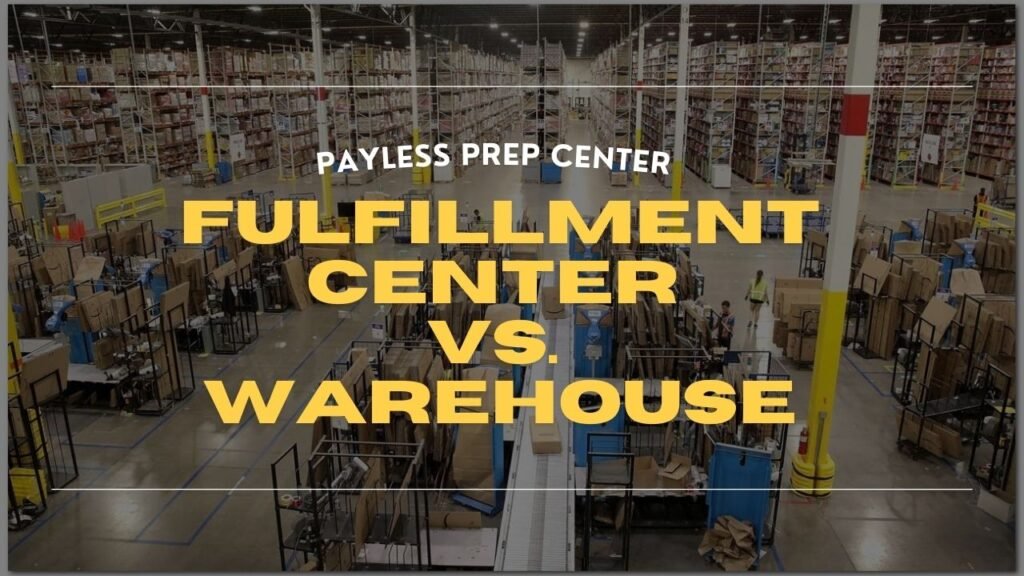 Making sure customers receive their goods on time is undoubtedly one of the most acceptable methods to ensure a good customer experience. The easiest method is to confirm that your chosen fulfillment facility can meet client demand. After all, having access to a broad selection of goods is one of the advantages of online shopping. This is only true if the goods can be delivered and packed effectively.It is important to fulfill this by understanding the complexities of the fulfillment center vs warehouse discussion. Both will be analyzed and compared in this post, along with tips on how to choose between them.
What is a Fulfillment Center?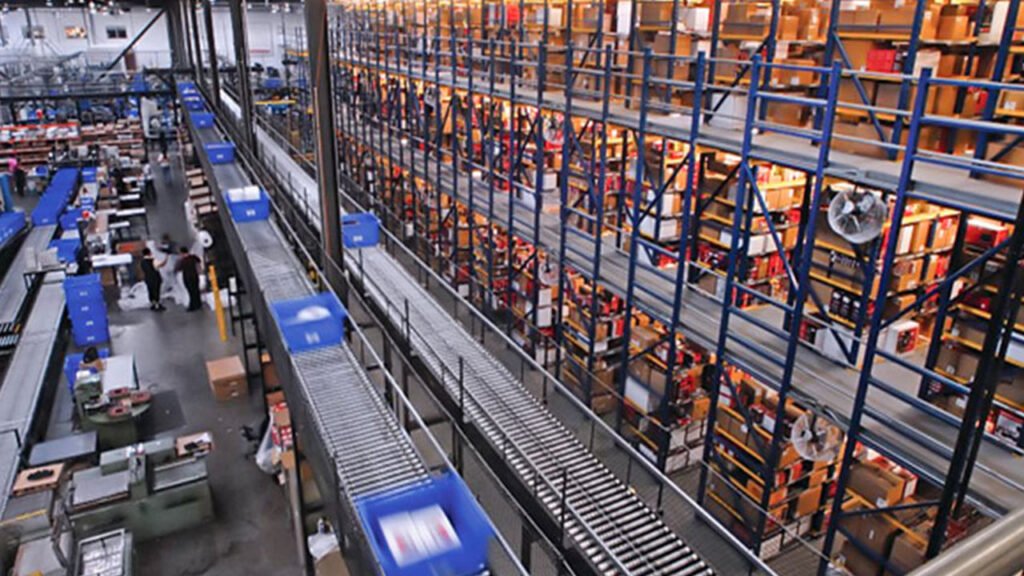 A fulfillment center is where goods are stored, managed, and shipped to customers. They provide logistical support for e-commerce businesses, allowing them to store large amounts of inventory, receive orders, package and ship products, and provide customer service. They ensure that goods are processed efficiently and arrive on time at their destination. Fulfillment centers offer several benefits to businesses that use them, including: 
Businesses can quickly and efficiently process orders and ship products. It reduces the time it takes to process and ship orders, allowing the company to focus on other operations. 
These are cost-effective, as they provide a single location for inventory storage, eliminating the need for multiple warehouses. 
They can help businesses mitigate risks associated with shipping, like lost or damaged goods. 
They allow quicker processing and delivery times, increasing customer satisfaction. 
What is a Warehouse?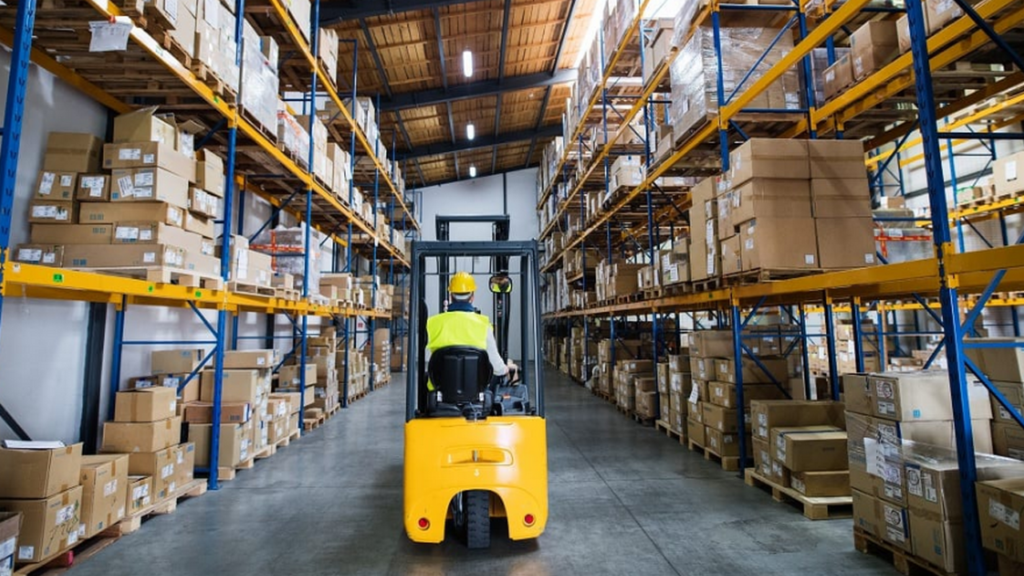 A warehouse is a large commercial building used for storing goods and materials. Businesses typically use warehouses that need to store large amounts of products or materials. These usually have loading docks, storage areas, and transportation facilities. Warehouses provide several benefits to businesses, including: 
Warehouses allow businesses to store large amounts of inventory in a single location, reducing the need for multiple warehouses. It increases efficiency by reducing the trips necessary to pick up or drop off products. 
Warehouses can provide cost savings, allowing businesses to store large amounts of inventory in a single location. 
Warehouses can provide a secure location to store products, reducing the risks associated with theft and damage. 
Warehouses can reduce the time it takes to process and ship orders, leading to increased customer satisfaction.
What Does a Warehousing Solution Do?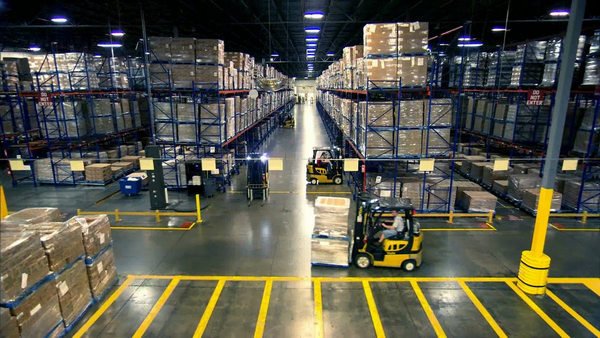 When a corporation holds goods for vendors for an indefinite time, it is referred to as a warehouse. It is a sizable building or industrial area where stuff for sale is kept. It may also include types of machinery like forklifts used to move the inventory, such as big containers, shelves, storage bins, and pallets stocked with goods each identifiable by a distinct SKU (or stock-keeping unit).
Most companies that employ warehouse providers place bulk wholesale or B2B (business-to-business) orders. To hold their surplus goods until it is ready to ship, some e-commerce businesses own and run their warehouse(s), while others rent the warehouse space based on their storage needs.
Although it varies depending on the available space and rent conditions, renting warehouse space is typically a more affordable choice for small to mid-sized merchants for e-commerce fulfillment.
If they don't have an internal fulfillment facility to preserve their goods, smaller merchants or those who are just starting may choose to lease a smaller and less expensive place, such as local storage facility. This can assist in maintaining the necessary goods nearby and in a more affordable area.
What is a Fulfillment Center and How is it Different From a Warehouse?
A fulfillment center is where the seller, or a business the seller contracts with to outsource their fulfillment, a third-party logistics provider (3PL), fulfills customer orders placed through an online store (also known as direct-to-consumer fulfillment) and business-to-retail fulfillment, where the seller completes wholesale orders to big box retailers.
It frequently has a bigger size and scope than a typical warehouse that a single business owns or rents. A fulfillment center's primary job is to help sellers manage their inventory, store it, send orders directly to consumers or merchants, and help them with the crucial but sometimes challenging fulfillment process.
How Exactly Do Fulfillment Centers Operate?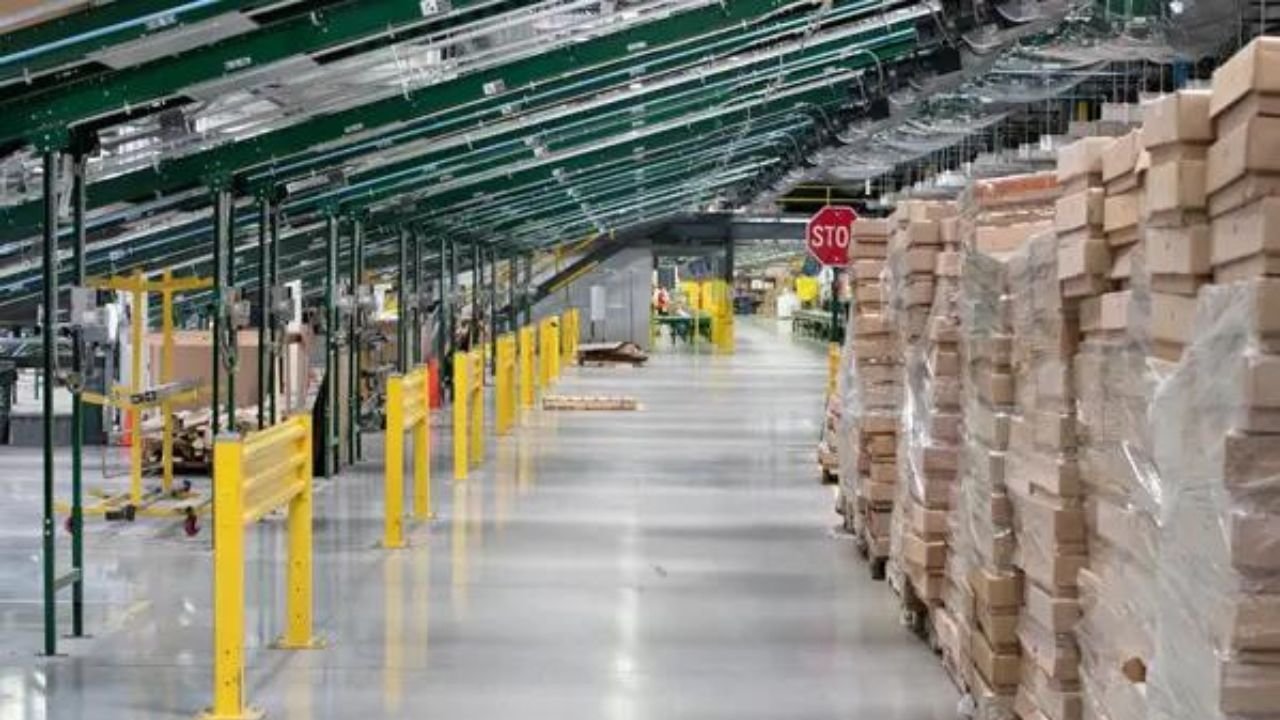 Because there are so many variables involved in warehouse management, minute details may be missed, leading to unanticipated issues and supply chain bottlenecks.
All logistics procedures necessary to deliver a seller's product to a client are coordinated through a fulfillment center. This procedure is often referred to as order fulfillment.

Inventory is easily held in a 3PL fulfillment center to satisfy client orders. Inventory is selected from the shelves of the fulfillment center once a consumer completes a transaction, packaged, and then ready for shipment.

These business-to-consumer (3PL) orders are frequently delivered directly to a person's house. B2B orders, which often send out a considerable amount of merchandise, can also be filled out by fulfillment centers.

When a seller hires a third-party logistics provider (3PL), the 3PL manages the procedures on the seller's behalf. This might involve negotiating reduced shipping rates, handling high-volume demands, and frequently lowering fulfillment costs for other order fulfillment services. It can also entail storing, receiving, packaging, and shipping.

It can be simpler to maintain inventory, save time so the seller can concentrate on other crucial company duties, and even increase customer satisfaction when a seller outsources fulfillment to a 3PL.
Read More: What is Fulfillment Center?
What Are the Main Differences Between Fulfillment Centers and Warehouses?
As previously stated, although frequently used interchangeably, a fulfillment center and a warehouse differ significantly in terms of what functions each performs in getting goods to customers.
While a fulfillment center is created to improve the customer experience surrounding the process of buying and having things delivered on time, a warehouse's primary function is merely to store inventory. 
Because 3PL fulfillment centers are close to customers, merchants may shorten shipment times and offer cost savings by keeping their goods there.
Storage Types: Long-Term vs. Short-Term
A 3PL's fulfillment center includes a warehouse that houses a seller's goods. Still, its primary objective is to efficiently handle the activities between when a client makes an order and when the product is delivered to their home or place of business.
At most, inventory won't stay at a fulfillment facility for more than 30 days. Long-term holding of products at a fulfillment center may be necessary; in this case, most 3PLs may charge a higher warehousing cost. The seller and 3PL should speak often and in-depth regarding inventory levels. For the 3PL fulfillment center to have enough merchandise on hand to meet consumer demand, it's critical for a seller to retain a sufficient number of their items, according to how frequently customers place orders.
Facilities Management
Because a warehouse is just used to store merchandise, it frequently is not in use. On the other hand, a fulfillment center for orders is continually busy. A 3PL offers complete order fulfillment services at its fulfillment facility, which include:
Getting supplies

Picking

item kitting, if necessary

boxes for packing

the creation of shipping labels

shipping requests

controlling returns
In a warehouse, the action only occurs operationally when merchandise is added or shipped out. Rarely are there any further services provided?
How Often do Shipping Companies Pick Up
A 3PL frequently has connections with several shipping firms. A fulfillment center needs a variety of businesses to pick up shipments at least once daily, perhaps more as necessary because it fulfills B2B and B2C orders as soon as they are placed. This makes it more likely that orders will be delivered in the window of time that the client was promised.
The shipping providers may need to pick up orders with particular delivery timeframes, such as same-day or next-day, at specific times to assure on-time delivery, depending on how a seller decides to transport their items. Sometimes specific carriers may arrange pickups for both local and foreign cargo regularly.
A fulfillment business often has a cutoff time for orders to be placed at the customer's preferred delivery pace. For instance, an order may need to be placed before midday to ensure next-day delivery.
Contrarily, a warehouse will typically schedule fewer pickups since it is more economical to ship out all of the things at once, regardless of how quickly the consumer wants them.
A 3PL Fulfillment Center's advantages


Ecommerce Companies Save Money With Fulfillment Centers
It's typical for fulfillment companies to oversee hundreds of clients simultaneously under one roof. They have far greater negotiating power with their vendors since they combine all their consumers. The fulfillment firm may take advantage of the combined volume to gain significant discounts on supplies, like shipping boxes and packaging materials (also known as dunnage), which they can then pass to their clients. In addition, the seller is spared the expense of running and staffing their fulfillment facility.
Shipping can account for as much as 70% of a seller's total fulfillment costs, making it the single highest expense. Larger, more seasoned fulfillment firms negotiate group rates with shipping providers like FedEx, UPS, and DHL to pass the savings on to the sellers.
Outsource Inventory Management and Storage
The trouble of operating a warehouse may be more expensive and time-consuming than it is worth for a seller who does not have a large corporation delivering thousands of things every day. Letting a fulfillment center take care of these responsibilities can be far more effective. When a seller can no longer manage the flow of incoming orders and be able to send them out on schedule, it is a good sign that it could be time to use a fulfillment center.
Giving the Seller the Freedom to Think Big
Although receiving orders, choosing items, packaging boxes, and shipping are essential aspects of a product company's bottom line, these duties can also be readily outsourced to an expert 3PL. Giving these responsibilities to a professional (3PL) frees time for a developing internet firm to focus on business operations like customer service, marketing, and strategic planning.
Services for Ecommerce Fulfillment
Sellers must partner with a fulfillment business with experience that has the technology and operational know-how to manage their sellers' e-commerce fulfillment as more and more client purchasing habits move from brick-and-mortar stores to online channels. A seller's e-commerce platform, such as Shopify or BigCommerce, must be connected, and operational procedures must be in place to fulfill hundreds, if not thousands, of e-commerce orders daily.
With the expanding demands of the sellers' e-commerce businesses, these fulfillment companies should be able to scale swiftly. Due to seasonality and numerous promotions throughout the year, eCommerce firms can see significant revenue surges in a short period.
Read More: Ecommerce Fulfillment services
It's Not Necessary to Own a Warehouse
You understand the feeling of having an overflowing inventory if your business has a popular product and is expanding quickly to satisfy client demand, whether in your garage, office, storage facility or elsewhere. It's a significant problem, but finding answers may be complex.
When you opt to outsource to an order fulfillment business, the third-party logistics provider (3PL) may keep your inventory without requiring you to accept deliveries, handle the goods, arrange, and sort everything. This frees up more room for possible company activities (or your sanity!). It may also be an affordable way to improve your bottom line.
The third-party logistics provider (3PL) will assist you in managing the inventory flow from the manufacturer to their fulfillment centers; they will notify you when the inventory levels fall below a specific threshold and order more inventory to be sent to their fulfillment centers, lowering your fulfillment costs.
Various Inventory
Finding out where their fulfillment centers are and whether they are close to the bulk of your clients is one of the most important considerations when selecting a 3PL.
The sooner your goods are delivered to your consumer, the less money you spend on shipping, the better. Customers of today anticipate ease and quickness while shopping online. Clients will receive their orders as promptly as possible if you keep your product close to the bulk of your customers (or adjacent to extensive metro regions that may swiftly reach high numbers of customers).
Utilizing Knowledge and Specialization
For any seller, managing logistics may be annoying and challenging. On top of all the other company processes that must be addressed, it adds another layer. The intricate procedures and all of the moving pieces may be handled with ease and effectiveness by a 3PL fulfillment center. Fulfillment firms have long-held responsibilities, including order processing, inventory management, packaging, and shipping. They have the most powerful technology and connections to deliver goods fast and affordably to customers (or companies). In the long term, it is highly cost-effective for the seller to outsource fulfillment and logistics to a skilled 3PL.
Make the fulfillment process automated.
Modern 3PL fulfillment businesses run their operations using cutting-edge technologies. This makes it possible to capture and record each stage of the fulfillment process in real time. Every consumer order placed in an online store is automatically routed from the shopping cart to a fulfillment facility, where it is picked up, packaged, and delivered. Additionally, once the purchase has been dispatched, the client and the vendor may receive tracking information to ensure everything goes as planned.
A 3PL can monitor and gather information about a seller's inventory throughout the year, thanks to logistics management software. This data might be helpful for growth benchmarking or company forecasting.
Wrapping Up
To maximize your budget and gratify your most essential asset—your customers—as an owner of an online store, it's critical to manage your inventory effectively. Even though the terms are occasionally used interchangeably, fulfillment centers and warehouses serve distinct purposes. While fulfillment centers pick and pack orders, house things temporarily, and ensure that they reach your consumers on time, warehousing firms only store goods to be used at a later time.
You may learn more about our services by contacting us if you are a business owner considering outsourcing your fulfillment process. Since we provide same-day shipping, most deliveries are made within two working days. Any firm should prioritize timely and precise product delivery. You can be confident that your clients will have the most satisfactory experience possible with Payless Prep Center.